The other night, while on a family vacation, I watched my mother get up in the wee hour of the night to cradle my seven year old brother as he cried on her shoulder because of growing pains. She rubbed his legs down, singing softly to him.
It was the perfect picture of a mother's sacrificial and tender love. A few hours later, he woke again and my father took the second shift to comfort him.
In moments like those, I wonder how many countless children around the world are waking in the middle of the night in need of comfort and soothing, with no one to answer their needs?
For these children, what should be the most magical, innocent and playful time of life, is often wrought with loneliness, injustices, and having to grow up too fast.
Sixteen years ago, my parents answered the calling to devote their lives to fostering and adopting children; since then, they have fostered over ten children, with three adopted, and the hopes of adopting one, or even two more.
Three of my former foster siblings live in California now, where we visited them this week. Though they were placed with their aunt years ago, there is something powerful about our connection that goes beyond blood or circumstance.
My seventeen year old sister opened up to me while we were sitting on the beach, discussing a break-up she just went through.
"My friends say I'm closed off now. I know I am. But, I'll never be closed off to my brother or sister, or to you guys. You're family to me. I trust you."
Her words resonated with me. It was over a decade ago that she and her two siblings lived with us, but we will always be family.
These siblings of mine are incredible testaments of what the foster care system can provide for children. After moving in with their aunt in Watts, Los Angeles, the oldest sibling met a volunteer in a local program that focused on offering a positive place for these kids to hang out.
The volunteer recalls how she "often invited the kids in the neighborhood to her church but they weren't interested. And then, he came along and was enthusiastic about going and I was so surprised."
He later told her he wanted to go with her to church because he remembered his positive experiences going with our family. Years have passed, and she still provides a mentor/mother role to him and his sisters, including helping them enroll in college, providing advice and love, and keeping us connected to them.
When I consider the statistics from CNN below, my heart hurts that there aren't more people who will answer the call to foster children, and/or mentor these young teenagers who have aged out of the system, or are growing up in broken homes.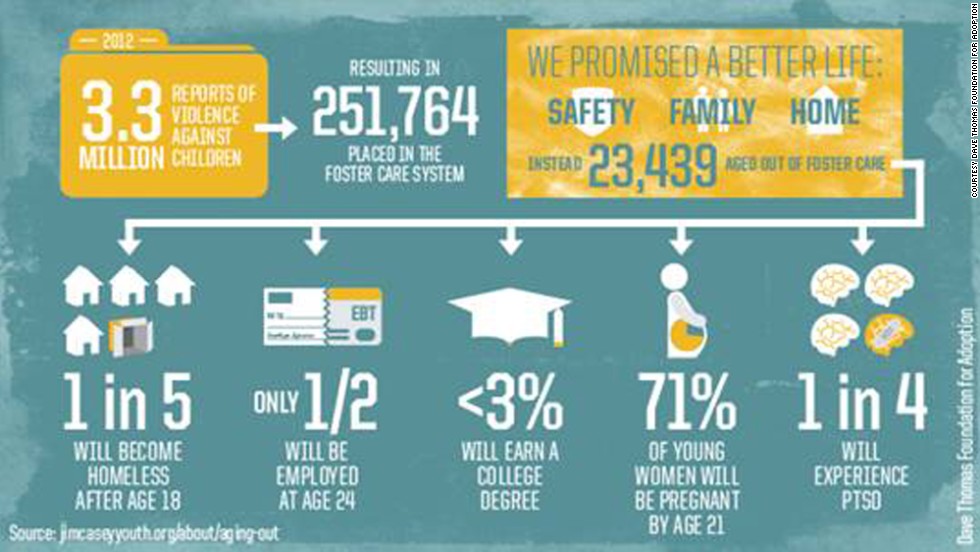 In my parent's household, there are currently four kids under the age of twelve bustling about, playing, eating, singing, crafting, jumping, wrestling, chatting, whining, laughing, at all times... it is a place teeming with life. It's the opposite of the quiet, perfect family of two we all seem to paint as ideal in our modern day.
I just finished reading a book by a Dr. Sampson Davis, "Living and Dying in Brick City," where he addresses the inner-city crisis of broken homes, a failing health care system, and the lost potential of so many beautiful souls who are drowned out by hopelessness.
He says of adoption, "I've seen far too many children come into the world unwanted... There is no 100 percent guarantee that a family who adopts will wind up with a perfect child and a perfect life, just as there is no guarantee that a natural birth will result in these things. Adoption, much like having a child the natural way, is full of wonder and mystery" (p. 104).
I was asked not long ago to close my eyes and to picture that thing that can move me to tears just thinking about it.
Eyes closed, I saw a picture I've seen a thousand times before. It's the face of a child, staring blankly into my eyes, the pain of neglect etched across his face. I see his plea for love and acceptance and my heart breaks in two.
If only more people would answer the call to raise unconventional families... We need more families with children that are not all one color, one biological combination, one perfect stair step of ages. We can change the epidemic of broken and hopeless lives when we are willing to set our selves aside to foster/mentor others.

I admit, when I think of following in my parent's footsteps, I often become nervous of all the things that can go wrong...

I imagine having to relive the heartbreak of hopelessly watching a child reunified with a parent in a less-than-stable home, only to know they will enter the system again. It's hard enough being the sibling, I can't imagine being the mother role.
Foster care is worrying sick about the future of a child(ren) you've come to love as your own flesh and blood, it's answering politely questions asked about your "lovely family"by nosy people who are puzzled by the blend and ages all calling you "momma," and often helping children through emotions and behaviors resulting from confusing circumstances.
And, it's knowing that when others say, "I could never do that, I'd get too attached," it's knowing that's exactly why you do it, because these children need someone who will get attached, who will love them no matter how much it breaks your heart when they go home, or maybe, just maybe, end up filling a permanent place in your home.
"Religion that God our Father accepts as pure and faultless is this: to look after orphans and widows in their distress and to keep oneself from being polluted by the world." James 1:27